Anime Index
Love Live! Sunshine!! S2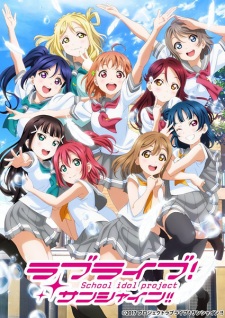 Alternative Titles
English: Love Live! Sunshine!! Season 2
Synonyms: Love Live! School Idol Project: Sunshine!!
Japanese: ラブライブ!サンシャイン!! 第2期
Information
Type: TV
Episodes: 13
Status: Currently Airing
Aired: Oct 7, 2017 to ?
Premiered: Fall 2017
Broadcast: Saturdays at 22:30 (JST)
Producers: Bandai Visual, Lantis, ASCII Media Works, Bushiroad
Licensors: None found, add some
Studios: Sunrise
Source: Original
Genres: Music, Slice of Life, School
Duration: 23 min. per ep.
Rating: PG-13 - Teens 13 or older
Synopsis
The second season of the Love Live! spinoff series, Love Live! Sunshine!!
- Episode 05
3GP | MirrorCreator | SolidFiles | UserCloud | ZippyShare |
MP4SD |
MirrorCreator
| SolidFiles | UserCloud | ZippyShare |
MP4HD 240p |
MirrorCreator
| SolidFiles | UserCloud | ZippyShare |
MP4HF 360p |
MirrorCreator
| SolidFiles | UserCloud | ZippyShare |
480p |
MirrorCreator
| SolidFiles | UserCloud | ZippyShare |
- Episode 06
3GP | MirrorCreator | SolidFiles | UserCloud | ZippyShare |
MP4SD |
MirrorCreator
| SolidFiles | UserCloud | ZippyShare |
MP4HD 240p |
MirrorCreator
| SolidFiles | UserCloud | ZippyShare |
MP4HF 360p |
MirrorCreator
| SolidFiles | UserCloud | ZippyShare |
480p |
MirrorCreator
| SolidFiles | UserCloud | ZippyShare |
---
» DAFTAR HADIR «
Lagi pada tidur
Pengintip:
1